Nazi-Seized Klee Goes to Court After Munich Rejects Talks
"The heirs of a German art historian who emigrated to the Soviet Union in 1927 filed a legal claim against the city of Munich for a Paul Klee painting that they say was stolen from their grandmother by the Nazis."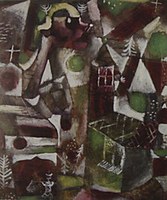 Sumpflegende (Swamp Legend) by Paul Klee
"The painting, "Sumpflegende" (Swamp Legend), is housed in Munich's Lenbachhaus museum. Three grandchildren of Sophie Lissitzky-Kueppers filed suit for its return at the Bavarian regional court after offers to negotiate were rebuffed. The suit, dated March 23, puts the painting's value at 2 million euros ($2.7 million.)

Lissitzky-Kueppers inherited "Sumpflegende" in 1922 and loaned it to Hanover's Provinzialmuseum in 1926, before she left Germany. The painting was seized from the museum in 1937 under the orders of Adolf Hitler's propaganda minister Joseph Goebbels for the Nazi "Degenerate Art" exhibition in Munich.

Munich has "rejected returning the Klee painting with constantly changing reasons since 1992," Christoph von Berg of Von Berg Bandekow Zorn, the Leipzig law firm representing the heirs, said in a statement sent to Bloomberg News by e-mail. "All attempts by the heirs to reach an agreement have been brusquely brushed aside." "
Catherine Hickley BloombergBusinessweek, March 27, 2012
http://www.businessweek.com/news/2012-03-27/nazi-seized-klee-painting-s-heirs-start-2-dot-7-million-court-case